Summer holidays like the fourth of July are American made for celebrating our freedom and grilling with family and friends. I know this year's fourth of July seems overshadowed by the current state of affairs, but I still believe this is the greatest country on Earth and we all have the right to stand up for what we believe in.
"Change will not come if we wait for some other person or some other time. We are the ones we've been waiting for. We are the change that we seek."

-Barack Obama
No one says America like the fictitious character from NBC's hit show, Parks and Recreation, Ron Swanson. He's become a cultural icon and a satirical metaphor for a libertarian and has some classic "one-liners". Here, Ron show us his Ultimate American burger recipe in perfect Ron Swanson fashion.
"Turkey can never beat cow, Chris."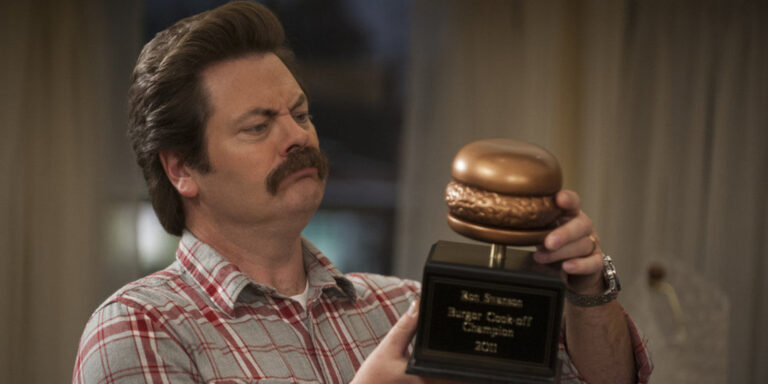 Grilling in the summer is a pastime for many that brings us together. The smell of charcoal and sunscreen bring back memories spending long summer days at the beach enjoying a cheeseburger on a white bun with a little bit of ketchup. And a hint of sand.
For those of us firing up the grille this fourth of July looking for a simple recipe for a backyard burger, look no further. Gourmet burgers serve their purpose, but nothing beats a good hamburger cooked on a charcoal grill in someone's backyard on the fourth of July. A hamburger on a bun with ketchup and mustard gets my vote everyday.
Here's a recipe from actor Nick Offerman that will save you time preparing but still have you looking like a grille master.
You can read the full article in Entertainment News here.
Even if Offerman's not a Swanson-level specialist on red meat, he does have a taste for burgers. Here, he shares his own tips for a burger that'll put a Quarter Pounder to shame.
1. What's Your Beef?
"You start with getting the best ground beef you can, with a nice lean-to-fat ratio," Offerman says. "The lean is delicious, but the fat is an important binder." Mix in a few raw eggs to help the patties stick together.
2. Don't Mince Words
Mince garlic instead! Sauté the garlic and some chopped onion in oil, and then mix that into the ground beef. Add a little salt and pepper, and maybe some grated Parmesan cheese or Gruyère "if [you're] feeling hedonistic."
3. Get Grilled
"Keep the patties thick, and grill medium-rare over charcoal. "I don't think I've ever used a grill fueled by gas," he says. "There's something about the primitive nature of charcoal, of real fire."
4. Top It Off
"Depending on how gluttonous I'm feeling, the max I'll go with is Gruyère or cheddar on the burger and bacon and a fried egg," Offerman says. "That's if I'm planning to go chop down a tree that day."
However you celebrate your Independence Day, we hope you have a safe and happy fourth of July.